To introduce
Throw away all paper wedding remember your room and arrange them neatly on the computer screen! Simple Sticky Notes is like its title, provides an easy way to remind you of important note.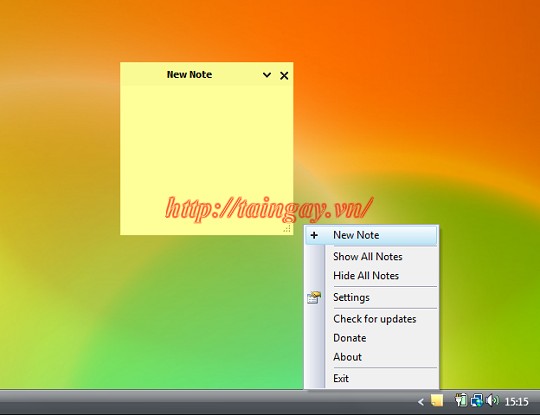 This free program will attach themselves to the system tray and provides the ability to create and save notes. From the system tray, users can create a new note. However, the notes that were created by this software can change the color and mode of the program through the menu. Size of notes can be changed, but it will be the last stitch in the editing stage.
Tray menu allows users to display all the notes and organize them easily. Although the note does not automatically loaded on top of the other note, but it placed sole, to help see them more easily when they are scaled down or forgotten.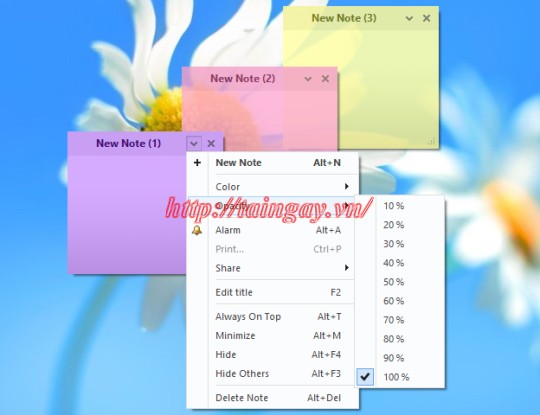 The key features of Simple Sticky Notes:
- Create memo on screen
- Put them in any location on the screen
- Create color discrimination and resize notes
- Use different font settings to create notes
- Show the list of on-screen Note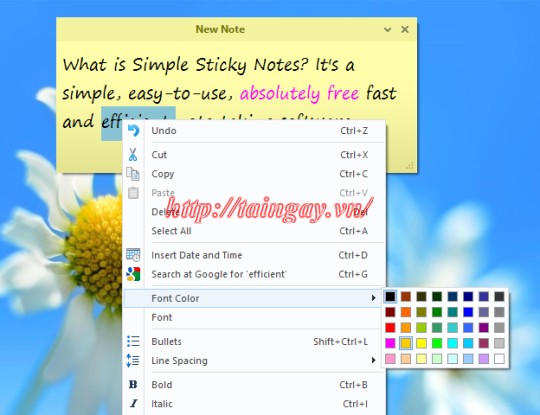 Like ATnotes, Simple Sticky Notes is needed for many different user objects, such as employees, students, and you can create an unlimited number of notes to his computer screen, so Simple Sticky Notes ATnotes and help you memorize the work, their learning the most effective way
Simple Sticky Notes help you remember important tasks through the organization of science and arrange them most. You can create a number of notes is not limited, and remove them if you have done. This is essential to the application you plan to work, have fun ... the most logical.
Vietnamese version: Tải ứng dụng Simple Sticky Notes 2.1 - Dán giấy nhớ trên màn hình desktop