Viber for Windows is one of the chat application, calling, free messaging most popular in Vietnam. Simply connect the network is that you can comfortably chat, messaging, free phone calls to friends and your loved ones anytime! Viber app chat, messaging, free calling popular now, you can download Viber to chat with friends, texting with people injured or connect the endless video calls. Viber is currently one of the applications that support chat, instant messaging, video call and safest ensure TaiPhanMem.Com.Vn now like to introduce the reader with information about this product.
Moreover, Viber for PC also supports many unique emoticons, for your comfort their feelings expressed in conversations with friends and loved ones!
Viber recently released Public Chat feature helps users easily share, monitor, explore unlimited information. When you use Viber you can make calls to any Viber users around the globe, with excellent call quality and totally free. Therefore Viber has captured the sentiment of the majority of users. As one of the applications that support the user in creating the connection conversation does not take much cost or even for free with Skype, Zalo, Yahoo, Viber is increasingly attracting users. Each software has the highlights and various drawbacks such as Skype users love by the diversity and safety when using the user Zalo Vietnam was favorite because it was born Vietnam is a potential product released by VNG.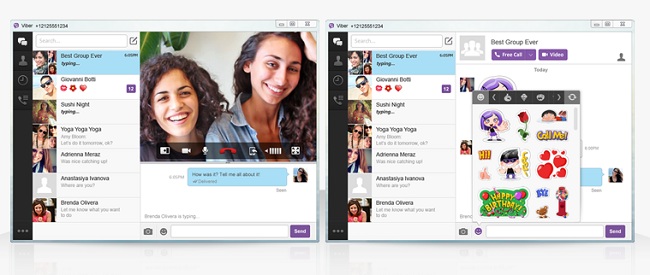 But is not the world's best software, but it is one of the calling software, free messaging best today, when you download Viber is also at free telephone calls to relatives or his friends be done. After many improvements and new updates Viber currently available on most platforms, operating systems via mobile as: Android, iOS, Windows Phone, RIM and eventually it will update the OS more new development, currently Taimienphi.vn have updated new version of Viber, you can download Viber for use with useful features that are not always obtain software.
New in version 5.1.2 Viber
Public chats Experience feature: Now, you can explore, search and track all conversations with friends right on your computer screen.
Simple search features: Search for conversation quickly and more effectively.
Spellcheck: Support users check spelling in the conversation easily.
Many more emoticons: You can freely express your feelings through emoticons unique.
Support for some languages: Spanish, Portuguese, Italian, Croatian, Chinese (Simplified and Traditional).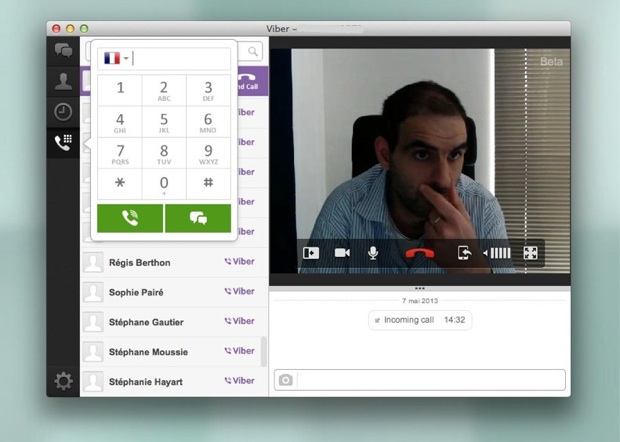 Key features of the app Viber on PC
Support the best call quality with HD
Lets chat in groups with a maximum number of 100 participants at a time
Support for video calls
Send messages, images, text free
Group chat
No registration or password requests
Contacts and message synchronization between the mobile phone and your computer
Continuous call transfer between devices
Multi-platform Support Windows and OS X
For Viber for Windows, the application will have some features similar to Skype as a phone call, chat via video, asynchronous messaging between devices through mobile run many different platforms. Unlike Skype, Viber does not support the call group, or users can not make calls between phone video phone. However now you can use a Windows computer to call relatives are the smartphones have Viber installed.
Vietnamese version: Download ứng dụng Viber 5.1.2 Gọi điện và gửi tin nhắn miễn phí trên máy tính