ILIVID DOWNLOAD MANAGER - SUPPORTS HIGH SPEED DOWNLOAD
iLivid Download Manager is software that gives users a powerful range of features for downloading files on the server quickly and easily.
With iLivid Download Manager, you can view and share video files via FileServe.com, Megaupload.com, Hotfile.com .... without having to wait until the download is complete.
Download Manager is available iLivid auto start and check the links, integrating with VLC Media Player to display the content on the path that contains video.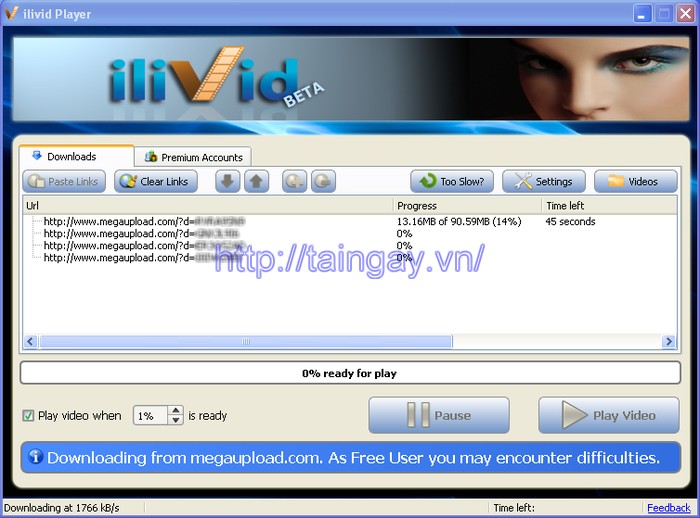 KEY FEATURES ILIVID DOWNLOAD MANAGER:
Can see video immediately after the download starts.
Operate and support the popular compression formats today, including video compression files, rar password protected.
One of the outstanding features of Internet Live Video Player is capable of viewing any video file stored on a remote server over the Internet.
ILivid player supports video sharing sites such as Rapidshare.com, Megaupload.com, Hotfile.com, ...
Supports the input: MPEG (ES, PS, TS, PVA, MP3), AVI, ASF / WMV / WMA, MP4 / MOV / 3GP, OGG / OGM / Annodex, Matroska (MKV), Real, WAV (including including DTS), Raw Audio: DTS, AAC, AC3 / A52, Raw DV, FLAC, FLV (Flash).
Vietnamese version: Download iLivid Download Manager 5.0.2.4813 - Hỗ trợ download tốc độ cao