Foxit Reader is an application of the most popular PDF reader today, providing many features necessary to meet the needs of users such as PDF creation, PDF editing, create notes, create signature, set and print password protected PDF files easily.In particular, the lightweight Foxit Reader, fast and completely free. Moreover, Foxit Reader supports multiple languages, including: English, French, German, Portuguese, Russian and Spanish ... The download and install Foxit Reader is also very simple and quick. Therefore, Foxit Reader has always won the hearts of the majority of users.
Today the popular PDF format, the app requires a reader it is not a simple matter, it has become more necessary than ever.Currently Foxit Reader is one of the software supports reading PDF files quickly sturdy enable users to display the entire contents of the PDF file on a fairly intuitive interface. Most users feel satisfied when loading Foxit Reader and use it. Similarly AdobeReader, besides reading functions, Foxit Reader also has the ability to intervene in that PDF content. With Foxit Reader, you can add a description, add notes and annotations as well as marking the passage, the key sentence in that paragraph. In addition the software also supports printing PDFs special professional fit for office and students, students and staff ... With the software supports reading PDF files now as Foxit Reader users can create and use a lot of tabs and read data and once without wasting too much time, using various additional software. Here is more information about the software, some advantages and disadvantages, the use and function together with the Foxit Reader brings the user.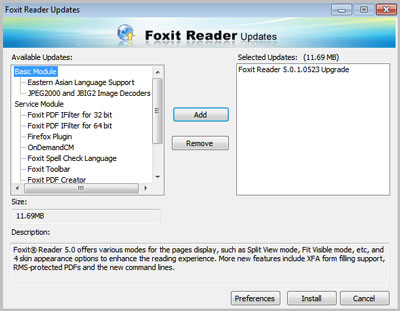 FOXIT READER FEATURES:
Skins for the user interface.
Enable operators tabbed toolbars
Exploit the latest two features you can easily zoom in to see more text.
Displays a list of all PDF files are open.
Save all calibration into a new PDF file.
Activate / deactivate Safe Reading Mode.
KEY FEATURES:
Fill a PDF form and export it as a PDF file, email and save it along with the PDF file.
Multi-language interface.
JavaScript add-on.
Self upgrades.
Improved printing speed.
Merge toolbar to have an uncluttered interface, reasonable.
Quick launch.
Convert the whole PDF document into a simple text file.
Safe and highly secure.
Create PDF files easily
Creates PDF files that are fully compatible with other PDF products.
Support PDF files in Microsoft Office through the plug-in is integrated.
Convert paper documents into electronic PDF files.
Insert photos and video to a PDF document.
View and print PDF documents
Quickly view and print PDF files, as well as the portfolio without consuming system resources.
Mode displays the document style multi tab will allow users to switch back and forth between the various PDF documents quickly and easily.
Configuration view and read the document.
Show page PDF document in full screen mode, single page, two facing pages, scroll continuously, automatically scroll, etc.
Easily add, edit and change your bookmarks in a PDF document.
Rotate pages between portrait and landscape photos. Zoom mode configuration using the Marquee tool or the magnifying glass.
Share PDF
Share PDF files on the server SharePoint .
Create and send a PDF file as an attachment to a note Evernote .
Save and send PDF via email directly from the app.
Provide feedback to the document through text markup tools and annotations.
Quickly view all comments in the document through an easily understood summary.
Import, export and post comments as a PDF file via email.
Indicates the status of a PDF document or hint users to sign its location. Selected from a group of preset stamps or create your own if you wish.
Easily add files as attachments to your document.
Helping feedback has better ability to interact with users more through the boxes, circles, arrows and many other drawing tools.
Complete the form in PDF documents
Gives users the ability to complete all forms using the form PDF and XFA standards while still utilizing existing form.
Automatically complete the PDF form.
Support for industry standards to import / export data for the form from / to a file.
Create JavaScript to connect to the database and insert, update or delete data.
Secure PDF documents
Warning to users if found in a PDF document attempts to call or run an external command.
Preventing suspicious external commands are executed by the Foxit Reader.
Enhancing document security for ASLR and DEP thanks to support.
Disable JavaScript entirely. If any security vulnerabilities threaten Foxit Reader users, the support staff will quickly identify problems, analyze the impact and root cause errors, then make instant recovery solutions.
Signing PDFs
Provides multiple ways to sign PDF documents
PDF Sign - Sign documents using your own handwriting
DocuSign - Submit, sign and save PDF documents using eSignature solutions are widely used today.
Digital Signature - Allow recipients to sign PDF documents and PDF files confirm the status of a digital signature.
Vietnamese version: Tải ứng dụng Foxit Reader - Ứng dụng đọc file PDF miễn phí