GOM Media Player - Free Music Apps



GOM Media Player is one of the programs best free music today. It can play almost all music formats that you do not have to install additional codecs anything, they were bundled together inside it.

Of course if necessary GOM Media Player can also use the codec is installed on the computer . GOM Media Player can play music files are damaged. You can get very nice to use GOM Media Player to play music files over the network while they are being downloaded. Simple interface , functional capacity but powerful light is what makes GOM Media Player is famous in the music software.

New features in version 2.2.69.5227 GOM Media Player :

Additional backup features .
Update interface new program .
Fixed some bugs in older versions.
Advanced features video display subtitles .
Additional advanced filters .
Support to V210 .
Users can use the Update button in the software interface to update to the latest version ( Preferences - > General - > Update - > Update) . If you receive a notice that they are using the most current version , please wait and try again .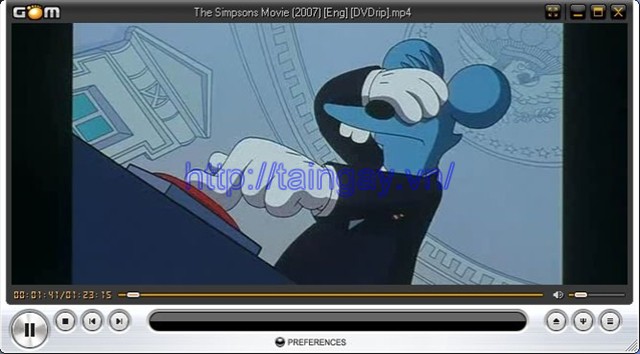 Download GOM Media Player to listen to music for free movies .

GOM Player Features:

The software is completely free to play music
Codec Finder GOM Media Playerco lot codec filter (XviD, DivX, FLV1, AC3, OGG, MP4, H263 ...)
Can play AVI files broken tip
Powerful Subtitle Support: Support subtitle files: SMI, SRT, RT, SUB (with IDX)
Playlist ease of use: Support the playlist files in M3U, PLS, ASX
Screen capture
Advanced Features: Customize brightness, contrast and saturation, sharpness and balanced sound.
Customize: interfaces, filters, ...
Edit the settings of the software codec playback AAC audio files. (If Codec Finder window opens as a pop-up after users have installed the update, you can click the button "Find Codec" and install recommended codec).
AC3 tab has been removed from the Preferences window, and AC3 internal options have been removed.
Fixed synchronization with specific TS files.
Fixing bugs MP4 files contain subtitles roll hard-code.
Additional features and disable save deleted files just released into the list "Recent Files" Windows (only supports Windows 7 and 8).

Formats supported :

Video Formats : flv , mp4 , mov , mpg , ts , avi , divx , asx , wmv , m4v , dat , ifo , vob , 3gp / 3GP2 , rm / rmvb , mkv , ogm . Additional formats can be played with external codecs.
Audio Formats : mp3 , .m4a , .aac , .ogg
Subtitle Formats : .smi , .srt , .rt , .sub ( width IDX )
Playlist Formats : .asx , Pls
Built-in Codecs : OGG , XVID , DIV1 , div2 , DIV3 , DIV4 , DIV5 , DIV6 , DIVX , DX50 , MP41 , MP42 , MP43 , H263 , AP41 , MPG4 , MP4s , M4S2 , MP4V , BLZO , MJPG , RMP4 , DXGM , and H264

More information about GOM Media Player

Review - Review of GOM Media Player: player software for free .

In summary, GOM Media Player is a multimedia music player , supports many popular audio formats . Additionally , users can customize the quality and brightness depending on the viewing angle to enjoy the best video comfortably .

Advantage:

Customizable interface .
Includes multiple codecs .
May seek additional codecs needed.
Support for video imaging .
Defect:

Includes Google bar in the installer .
Vietnamese version: Download GOM Media Player 2.2.69.5227 - Phần mềm nghe nhạc miễn phí