HEROES OF MIGHT AND MAGIC ONLINE - HOMM ONLINE
Classic strategy game Heroes of Might and Magic officially boarded the online platform via the "father" Ubisoft and TQ Digital Entertainment (China) jointly developed. Heroes of Might and Magic Online (HOMM) 2.5D MMORPG genre turn-style entirely new. Unlike many online RPGs other, primarily in HOMM online real-time combat and fighting style combines are selling pretty much plays in Heroes of Might and Magic III. This is the result of cooperation between big developers Ubisoft with TQ Digital Entertainment (developer Zero Online games are released in Vietnam through SaigonTel NPH). HOMM Online retains the classic elements and the popularity of the series offline - Heroes of Might and Magic, but adds new features to suit flow system online games like Friends, Team, Marriage, Military group, clan and Commercial ban..v..v..Tham in the game, players will be the role of a warlord go explore the world, gather resources, upgrade and construction Stronghold Military Heroes strong. Additionally, players can communicate with Race, another army besieging a city, hit a land occupied, or conquer the enemy stronger.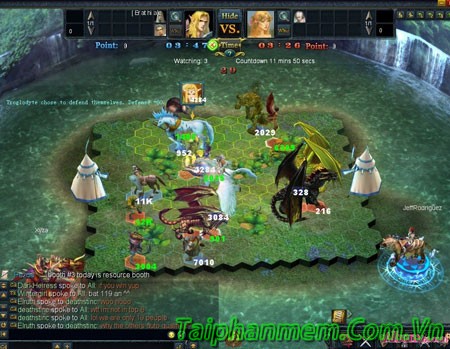 Inheriting a legendary game series

based on the classic game series Heroes of Might and Magic, HOMM online not only inherited more than 10 years experience in development of professional grade "senior" but acquire Ubisoft origin and evolution story pretty good. Game replayed entirely familiar setting as Enroth continent, the Kingdom of Erathia and spell system, as well as the specific features of the Hero (Heroes), offers players a magical world full of color.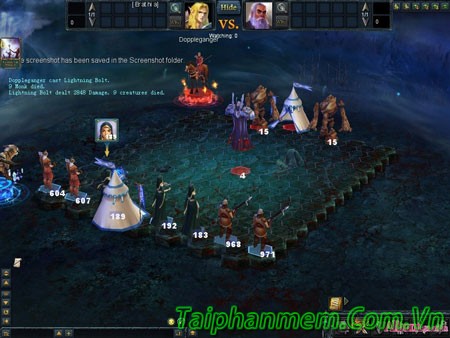 The climax of tactical

Anyone who has ever played Heroes of Might and Magic III tactical know how high game. In HOMM online too, the battle system is based on four categories Magic, with 8 and 56 kinds of Military Race. Characteristic of the classic turn-based fighting style (board) allows players to maximize tactical their creativity. Meanwhile, the construction of palaces and upgrade army, attack fortresses are entirely self-control by the player. Battle epic 3D battlefields HOMM online with spectacular 3D, with special skills of troops and spells from Hero are upgraded to add new effects shimmering beauty. Speed, Fortune, Morale, Luck goes along with military moves and the balance from the elements in the battle ... all made ??a battlefield flexible and realistic than ever before. The system breaks every task tradition from the "Shadow of Death" to "Armageddon", you can write on the page epic Heroes of Might and Magic for himself. HOMM online has extensive quest system with thousands of challenges and missions screen fame awaits you discover. As a hero, you can explore alone or open a game room to invite friends into the fight. The rare treasure, magic items powerful, mythical creatures is the reward that you can win when winning.







Battle in real time
The dazzle of Heroes of Might and Magic is situated in full PvP battle tactically. In HOMM online too, you will have the opportunity to perform real-time PvP, and the win or failure depends entirely on the ability to "Command and Control" of you. In addition, there are other games challenged PK battle with huge rewards for the 8 races compete with each other to step on the highest podium of fame in the weekly rankings. The winners of PvP will have the opportunity to receive some legendary weapon any. Not only that, the game had the legion battles, epic Pk .v..v..kha teammate.
Hình ?nh trailer Heroes of Might and Magic
Note: only for those IP addresses in Asia (Asia).
System Requirements:
- 800 MHz or faster processor speed.
- 128MB RAM.
- Video Accelerator Card (for 3D graphics) with 16MB RAM or higher.
- 1 Gigabyte of free hard drive space.
- Internet connection with 56 Kbps or faster connection speed.
- DirectX 8.1 or higher with compliant video and sound card.
Vietnamese version: Tải game Heroes of Might and Magic Online - HOMM Online - game chiến thuật kinh điển