HTKK FREE SOFTWARE FOR COMPUTER - SUPPORT BARCODE DECLARATION DECLARE HTKK
For each enterprise, the tax declaration is one of the most important job. Accountants must be responsible for the entire tax declaration, even have to spend a lot of time to do a careful tax reporting, exactly. To simplify the work of tax declarations for the accountants to help save time, but still finished exactly declarations, HTKK free software for businesses in the tax declaration attached barcode printing by GDT release is a very useful software.
With software HTKK, those wishing to finalization in 2014, and granted a dependent in the process of implementation will be supported under a lot of common forms, under specific instructions by the Ministry of Finance onions. With the aim to support the user in the tax declaration, HTKK fully meet the requirements, concerns of users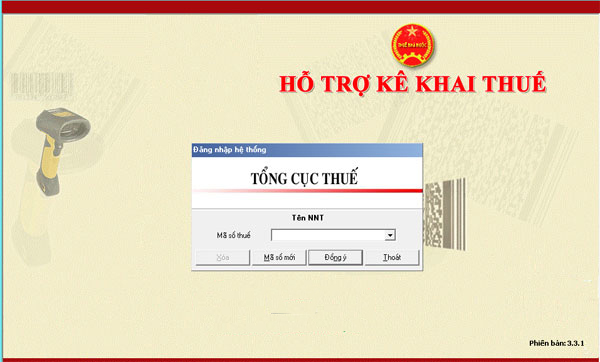 SOFTWARE SUPPORT HTKK FINALIZATION DECLARATION IN THE NEW VERSION
Upgrading applications to meet the requirements of dependents under age 15 Disclosure of information on lists ID dependent form of family allowances 05-3 / BK-PIT and mandatory 16TH shall not declare more information What's on the birth certificate.
Upgrade allows users to declare the data lines of the NPT lacks information on the lists (there are only lines each default information Nationality Vietnam at the top line, as declared by taxpayers not delete these lines go ) Should the file upload page, MAF Online'll get an error.
Where dependents are foreigners is not required to enter information on the birth certificate.
Upgrading applications to enter the number of indicators, on the birth certificate in book form 16TH, 05-3 / BK-PIT maximum of 50 characters.
Additional information about the signer section on Summary of registered NPT (16TH) when printed to assist taxpayers can sign and seal.
SOFTWARE UPGRADE SUPPORT TAX DECLARATION HTKK
Upgrade gadget button "Calculator" on the list 05-1 / BK-PIT, support calculated as data is loaded from excel spreadsheet if the target [21] on the list excel = 0, when the press "Calculator" will support the price indicators [21] according to the formula, if the indicator on [21] on the list excel <> 0 exam when pressing the "Calculate" will not support the principle guarantees Natural NNT number of declarations.
Fix spent calculated [29] on the declaration 09 / KK-PIT when declarations are rendered from HTKK 3.3.0 software which lists 09-3PL-PIT data not declared on the table II. No dependents MST / ID card / passport.
Upgrade function declaration declaration 01 / NTNN to support the case of contracts signed before 01.10.2014 (date of validity of Circular No. 103/2014 / TT-BTC), the original use of forms attached to Circular No. 103/2014 / TT-BTC, but the tax treatment applied in accordance with Circular 60/2012 / TT-BTC and Circular 156/2013 / TT-BTC.
Upgrade portfolio tax authorities: Tax Office in Ba Ria town into City Tax Office Baria.
Upgrade fix some cases undeliverable sample: TB03 / AC; BC21 / AC; BC21 / AC_BLP; TB03 / AC_BLP; 04 / VAT.
Note : In case the message appears: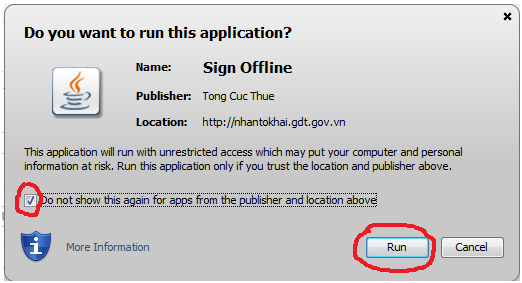 Vietnamese version: Tải phần mềm HTKK 3.3.1 - Phần mềm hỗ trợ kê khai thuế