K-Lite Mega Codec Pack - Decoder music formats, video popularity



K-Lite Mega Codec Pack is a collection of most of the code and related tools. In brief codecs used to compress and decompress. This package includes codecs for most compressed form like Divx and Xvid and other types of less common but can still necesary, needed for encoding and decoding (playing) audio and video. With the K-Lite Mega Codec Pack you can play 99% of all the movies that you download from the Internet. K-Lite Mega Codec Pack includes K-Lite Codec Pack Full, Media Player Classic, BS.Player, and the support of Smacker and Monkey's Audio decoder DirectShow.

This is the most common codec package currently used for both Windows 2000, XP, Vista, 7 and the latest Windows 8. The K-Lite Codec was designed as a user-friendly solution for users to play All audio file format and popular video formats you want, even it can play some other formats because it is a rare combination necessities DirectShow filters for encoding and decryption.

The remarkable change of K- Lite Mega Codec Pack latest version :

MPC - HC updated to version 1.7.5.195 .
LAV Filters updated to version 0.62-5 - ga731178 .
Upgrade to version 1.3.4529 ffdshow .
Upgrade to version 0.87.7 madVR .
Upgrade to version 0.7.67 MediaInfo Lite .
Codec Tweak Tool update to version 5.8.3 .
Update to version 0.6.1.403 GraphStudioNext .
Xy - VSFilter upgrade to version 3.0.0.300 .
Upgrade to version 2.2.6 b2 Icaros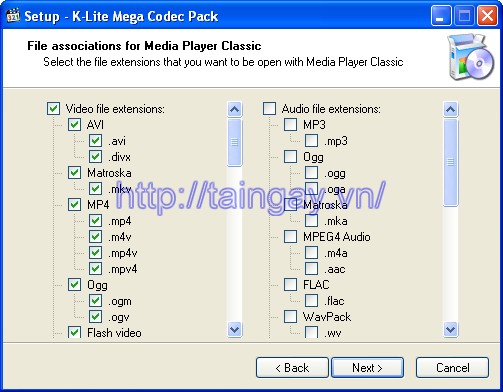 Read full video music files tag
Vietnamese version: Down ứng dụng K-Lite Codec Pack Mega 10.7.1 - Bộ giải mã các định dạng nhạc, video phổ biến