Microsoft Security Essentials ( 64 bit) - real-time protection for your computer



Using Microsoft Security Essentials ( 64 bit) - Vietnamese version to help protect against viruses , spyware and other malware types . This software provides real-time protection for small business PC or your home PC .

Main Features

Comprehensive protection from spyware , Trojans , Spyware .
Supports Windows 7 , Windows Vista and Windows XP
Available in 33 languages ??including Vietnamese
Simple download , free
Silently protecting you in the background
Automatic updates.




Why download Microsoft Security Essentials?

Microsoft Security Essentials software is world class security for your PC is provided free * and easy download. Here are some ways to help keep Microsoft Security Essentials secure your PC without affecting your way or do you worry.

Real-time protection:
Real-time protection means addressing potential threats before they become a problem. Warning notifies you when spyware, viruses or other malicious software tries to run or install on your PC and files and suspicious programs blocked open.

Scanning System:
Microsoft Security Essentials provides a complete scanning system with the optional scanner and scanning schedules as required to provide additional confidence that season. Scheduled scanning is enabled by default and is configured to run weekly at 2 am when the system is capable free. There are three scan options:

Fast scan. By default, fast scanning quick check of the malware with the most likely infection, including programs running in memory, file system and registry.

Full Scan. Full scan checks all files on a PC, the registry and all currently running programs.

Custom Scan. Custom scan allows you to scan the area you choose.

You can choose when you want to run scheduled scans, view scan results before deleting or run scans on request. If the PC is not turned on when the scan is scheduled to run, Microsoft Security Essentials will begin scanning for the first time when the PC is woken and free.

Remove from system
When Microsoft Security Essentials determine possible threats on your PC, a warning will inform you about the threat. Threats are classified as Critical, High, Medium or Low, and you can choose to ignore, quarantine or delete the item from the system.

Isolation. Microsoft Security Essentials threat blocking less dramatic and moving them to every isolated where you can choose to restore or permanently delete them. By placing items in insulation, you can check the effect of deleting the item before you delete them from the system.

Clear. This action permanently deleted from the system directory.

Allow. This action prevents Microsoft Security Essentials detected scanning position in the future by adding it to the list of those permitted. You can delete items from the list of those permitted at any time.

Integration of Windows Firewall
Yes firewall activity is part of the security of your PC. While the setup, Microsoft Security Essentials scans your computer to determine if the firewall is working on your PC or not. Without firewall protection, you will be given the option to enable Windows Firewall.

Dynamic signature service
Protection needs to be updated to be effective. Dynamic signature is a way to check a suspicious program have no valid or not. Before running suspicious programs, Microsoft Security Essentials runs pretend that program to determine whether it will do. This gives the program a special signature is checked against the database matches the program's valid and invalid. The program is monitored even after they have been approved to ensure that they do not do anything with the potential for harm as unexpected network connections, modify the core part of the operating system or download malicious content.

For information, updated definitions and analyzes of the latest threats that Microsoft Security Essentials can help protect you, visit the Center for Protection of the Microsoft Malware.

Prevents Rootkit
Rootkit (software used to seize control of the computer) is very difficult for malware blocking and Microsoft Security Essentials include a number of technological enhancements and new technology to solve rootkit threats and attacks Other.

Kernal in the center of your PC operating system. Microsoft Security Essentials kernal monitoring to see if any attack or any harmful amendment.

The rootkit stealthy approach to self-hiding and Microsoft Security Essentials anti-stealth technology has the latest to detect them. For example, the analysis of the file system directly to help find and remove malicious programs and drivers that tried to infiltrate rootkits.

Protection against real threats, the software is not valid
Microsoft Security Essentials helps prevent malware. We maintain a list of the most popular websites and Internet downloads, as well as use them to check for updates and the definition of anti-malware us before they reach you. This helps us ensure that the protections that we provide really kept safe for your computer and not blocked.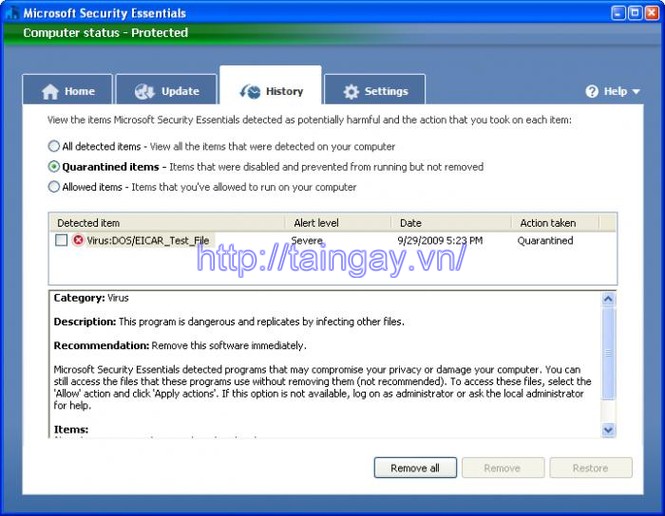 Microsoft Security Essentials (64 bit)

Minimum system requirements to run Microsoft Security Essentials

Microsoft Security Essentials is a free program and easy downloading * . Here's what you need to run it :

Operating System : Windows XP Service Pack 3 ( SP3 ) * ; Windows Vista ( Service Pack 1 or Service Pack 2 ) * ; Windows 7*
For Windows XP , a PC with 500 MHz CPU speed or higher and 256 MB RAM or higher .
For Windows Vista and Windows 7 , a PC with a CPU clock speed of 1.0 GHz or higher and 1 GB RAM or higher .
Display VGA 800 x 600 or higher .
200 MB available hard disk space .
Internet connection is required to install and download the spyware definitions and the latest virus for Microsoft Security Essentials
Vietnamese version: Download Spyrix Free Keylogger 6.7.0 - Công cụ ghi lại hoạt động máy tính