MUMMY MAZE DELUXE - GAME DISCOVER TOMB
Mummy Maze Deluxe is a fun mini game high intellectual nature PopCap released by the company. Players will play explorers pyramid, trying to find a way out of the maze and avoid the pursuit of the mummy scary.
The task of the player is helping archaeologists to escape the deadly maze in the tomb and found the mask of King Tut . You will have to pass 15 different pyramids and pyramids each have 15 room mysterious labyrinth. Try to avoid the catch of the mummy and discover ancient secret in the final maze of the pyramids.
When players should pay attention to the symbol Ankh at the bottom left corner. If it turns red means that you no choice but to get out of that maze. At that time, the player can play back or reset the maze.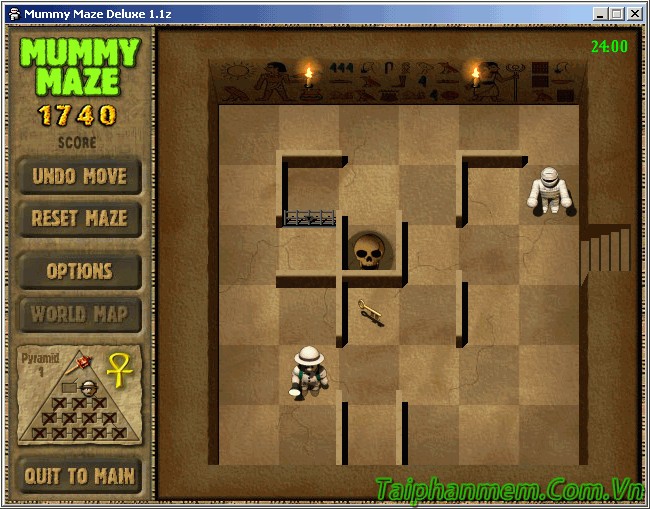 MUMMY MAZE DELUXE GAME PLAY:
To move the character, use the arrow keys or click on the square you want to go. Remember, you move one step, the mummy will simultaneously moving distance twice (unless it is blocked by the wall).
The mummy usually chase us horizontally then vertically . Players should understand how they work and taking advantage of mummies walls to calculate the running out of the maze so that reasonable.
Your score achieved in each screen will depend on the difficulty of the maze and time to break out of it.
MANY DEADLY TRAP:
In the maze, players will be faced with numerous dangers as white mummy, mummy red, scorpions ... If you see mummy red in some screens, you should note their movement backwards with white mummies. We will run vertically and horizontally before behind.
Sometimes you will encounter 2 mummies in a room. This time, players should try to trick the two mummies that clash into each other and one of them will die, so will only have to deal with one name left.
Also, in some screens, the beetles scraper kept in cages can be released by the player or name mummies accidentally be key.Scorpion relatively similar action mummies but they only move in one square per turn. Besides, the chamber also contains a lot of deadly traps await players!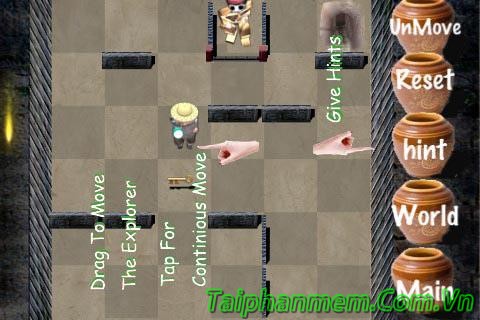 GAME MODES IN THE GAME:
The game includes two modes: Classic and Adventure . In the Classic, the maze will each time a regime more confusing stillAdventure will have 15 pyramids you satisfied to discover. To complete the Adventure , gamers will have to collect 15 items during the expedition. Mummy Maze Deluxe mini game is a challenging and exciting, definitely makes you excited. Will you have the courage and ingenuity to be able to survive?
THE MAIN ADVANTAGES OF THE GAME MUMMY MAZE DELUXE:
2 exciting game modes
15 challenging pyramids
Great graphics
Low Capacity
Easy to manipulate and control
Vietnamese version: Tải game Mummy Maze Deluxe 1.1 - Game khám phá lăng mộ dành cho PC