Norton Internet Security 2015 - Secure Top PC



Norton Internet Security 2015 is a security software , providing users with tools to protect against online threats fastest. Help protect computers , networks , and online activities by improving detection technologies .

In addition, to help manage passwords , network traffic management , as well as log information while surfing. Overall this is a useful tool for secure storage addresses , user names , passwords , credit card numbers , email addresses and other information .

New features of Norton Internet Security 2015 22.0.0.110

Supports secure on cloud computing technologies .
Reducing the size and duration of network access .
Improved user interface .
Supports file backup options .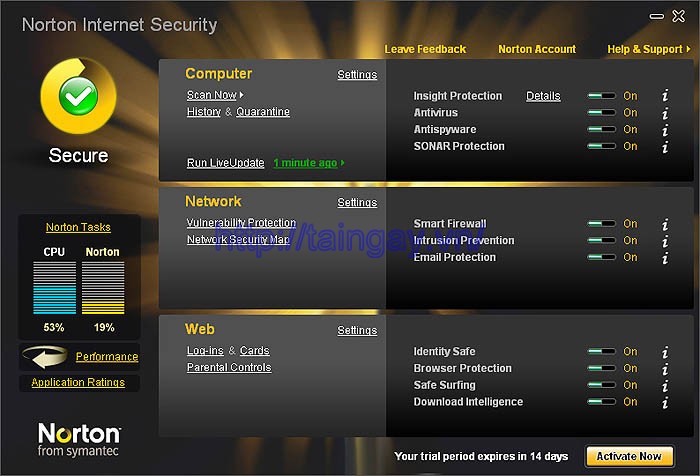 Download Norton Internet Security 2015 to protect comprehensive computer

Some key features of Norton Internet Security

Norton Protection System - Software with 5 layers of protection that can detect and remove these threats quickly and accurately than other technologies.
Network Defense Layer Protection - Prevents harmful online before they ever reach your computer.
Norton Management - Allows you to fix, update, renew and install Norton Internet Security via the Internet with just a few clicks.
Norton Safe Web for Facebook - scans new data source on your Facebook to find the dangerous links, downloading infected and unsafe websites.
Automatic Backup - Automatically backs up photos, music and important files to your computer when not in use.
PC Tuneup - Corrected some common computer error, freeing memory, remove unnecessary files and cleans your hard drive.
Parental Controls Management - Lets you access the Norton Online Family through Norton Internet Security.
Antiphishing Technology - Blocks phishing sites from stealing money, passwords and personal information.
Norton Identity Safe - Me, security and automatically enter username and password.
Norton Safe Web - Protect yourself while surfing by warning and blocking unsafe websites.
Download Insight 2.0 - Protects you from dangerous applications before you install them.
Norton Pulse Updates - Update protect approximately 5 to 15 minutes at a time without bothering you.
Vietnamese version: Download Norton Internet Security 2015 22.0.0.110 - Bảo mật hàng đầu cho máy tính