Points are a Vietnamese typing software first and most powerful in Vietnam run on Windows operating systems, supports most common encodings, the common Vietnamese input methods from TCVN3, Unicode, VNI, ABC, Telex ... as well as the ability to support import of foreign language characters such as French, Russian, German ... Vietkey founded by Pham Minh Tuan, is downloaded and used completely free on taiphanmem.com.vn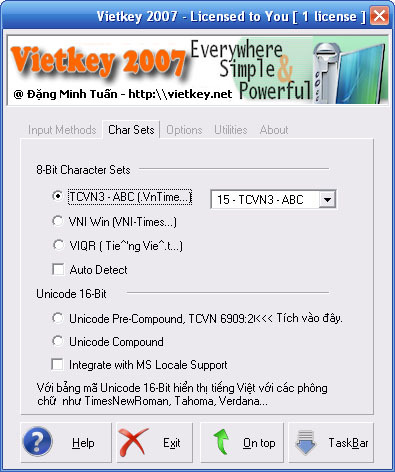 Although born very early Vietkey Vietnamese percussion show many remarkable features but recently percussion almost no developer is interested and upgrades for UNICODE encoding standards have been officially applied in Vietnam . If you are not satisfied with this percussion can also use the best alternative IME currently Unikey .
VietKey friendly interface, Vietnam Net, easy to use, very compact size, just 2 files VKNT.EXE and VKNTDLL.DLL is enough to run, VietKey occupies very little memory and resource of system should not affecting other programs. Vietkey version that you are viewing the latest version and is suitable for all the latest Windows operating systems such as Windows 2000, XP, Vista, Win 7, Win 8, Windows Server ...
VietKey can embed the Vietnamese in most 16-bit applications and 32-bit in Windows 32-bit environment: MS Word, WordPerfect, MS Excel, Access, Foxpro. VietKey can run in the program QuarkXpress, Ventura is a software professional desktop publishing program that few other Vietnamese input can run.
VietKey can run simultaneously without causing trouble to the dictionary program EVA (MTD) of Lac Vietnamese company. Oracle products as Form Designer, Report Designer mostly error Vietnamese with other software but not cause for VietKey error.
VietKey 2 popular Vietnamese input methods are TELEX and VNI. VietKey have many improvements to the Vietnamese type is most convenient for the user: Repeat sign, install additional features to the Control key and backspace , automatic classification English and Vietnamese difference immediately while typing, with this feature the user does not need to switch modes constantly typing text when typing both English and Vietnamese and save a lot of manipulation for the Vietnamese used when typing error.
Points are one of the indispensable application for your computer
Vietnamese version: Tải ứng dụng Vietkey Full - Bộ gõ tiếng Việt gọn nhẹ