Bkav Home - Free antivirus software Vietnam
Bkav Home is free antivirus software of Vietnam, Bkav Home supports the free antivirus features Bkav (BkavEngine), especially supports Self warning (Auto Protect) on all platforms Windows (9x, 2K, XP, Vista).
With its intuitive interface Vietnamese, easy to use, is very much Bkav user Home Vietnam favored and trusted by customers. Download and install up Bkav Home computers are reassured that your system is protected automatically.
With Auto Protect, when you receive emails, browse the web, download files from the Internet or intranet, via CD, USB ... on your computer, your antivirus software will automatically detect Bkav and handle virus if present.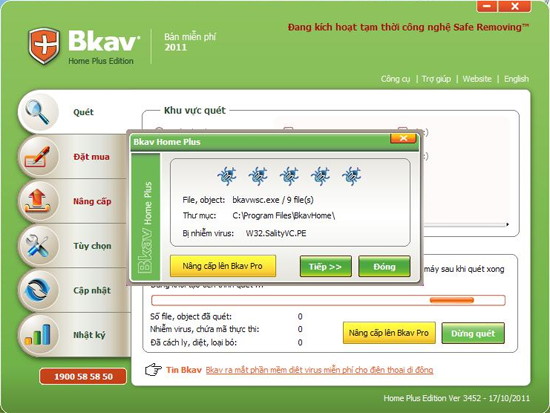 BkavHome be designed in accordance with individual users who are not in regular contact with the Internet environment. To protect secure computer with viruses in the network environment effectively, you should use Bkav Pro software to be updated, advice and support possible.
Currently, users can also download the latest version of Bkav Home - Bkav Home Plus. This is still a free version with integrated Automatic Update feature and update your business as Bkav Pro version. With the aim of giving users a sense of security when using computers, Bkav Home Plus is free antivirus software in the world Monday fully equipped with advanced technologies such as Cloud Computing ( cloud), Safe Run (execute safe), Firewall (firewall) ...
Also, if you are professional users and features in version Bkav Home and Home Plus 2014 Bkav not enough to serve the needs of the everyday, download Bkav to trial Internet Security Pro. If appropriate you will only have to spend a very small cost: 149,000 VND.
Vietnamese version: Tải phần mềm Bkav Home 4525 - Phần mềm diệt virus miễn phí