TO INTRODUCE
Paltalk Messenger 10.2 is a group video chat software with convenient functions help you chat, discussion, chatting, singing, meeting with several people. The sound is passed through the machine, you hear no less than over the phone.
KEY FEATURES OF THE SOFTWARE:
Friendly Communities: A whole new world awaits you, whether you want to talk to someone in anywhere.
Group video conversations free: Eight stories with multiple friends at once, supports dialogue up to 10 people at once.
Call and Global Messaging: Call & SMS globally at very low cost.
Paltalk phone: Talking to friends on the phone using Paltalk.
Call anywhere: Comfortable call from your computer to their phone number no matter where in the world, at any distance.
Data exchange: Whether large or small, the sending / receiving files is a breeze now.
Take a screenshot.
Chat VOIP.
Share files easily.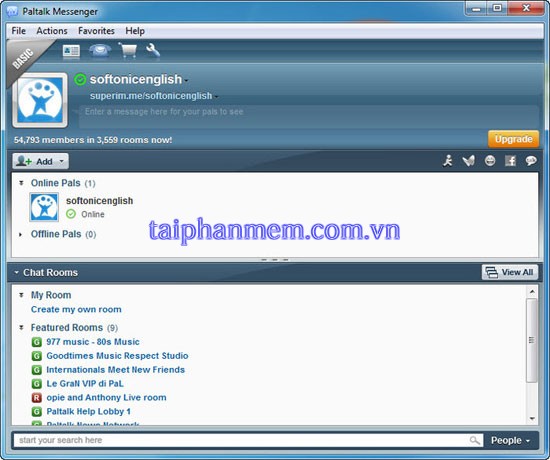 GUIDE
In section "Register" at the top of the page to register a free account with Paltalk. In the register, you choose a nickname and password. After completing the registration process, you begin to download the program to your computer Paltalk. Meanwhile, Paltalk will send you a password via e-mail, is used to enable (activate) program after installation.
Once the download is complete, the software will automatically guide you through installing the software on your computer. Once installed, you should see the e-mail to get the code.
Add code in the box activated (only once) and start using.
Vietnamese version: Download Software PalTalk Messenger 10.2 - Ứng dụng chat toàn diện miễn phí