TO INTRODUCE
Along with multimedia chat software now as Viber or Zalo the Tango are plenty of users. Bring to a world of fast connection, the user can completely can chat, texting or calling is free. How to use easily, giving users a helpful software and can communicate with many parts of the world . The outstanding features of Vietnam Tango for PC applications is attracting more users and become informed more use.
DOWNLOAD TANGO - MESSAGING, VOICE CALL, VIDEO CALL FREE
Tango for the PC is a chat application, messaging, multimedia call useful for PC. Tango will bring little world on the mobile phone in your computer. Download Tango computing allows users to perform telephone functions such as messaging, video calls for free, relaxed with friends.
Tango mainly connected computers with Android or iPhone device. Users easily communicate with friends, relatives, partners directly though in anywhere, without interruption, please choking as telephone network. Just download Tango for PC , register personal information within 5s that were able to comfortably chatting. Tango's interface is fairly simple and feature images of mobile phones.Whether voice calls, video calls, text messages domestically or internationally are free. You do not need to worry about postage prepaid, postpaid or headache for limited SMS based subscription.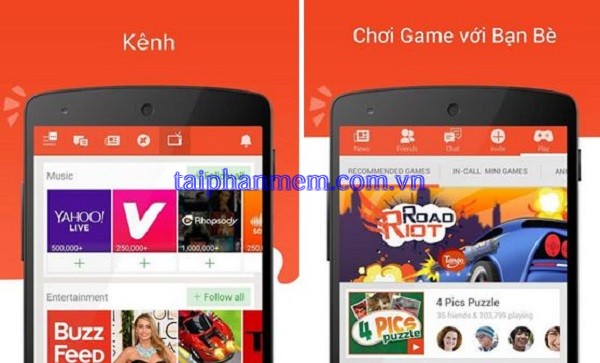 Moreover, sending ordinary text messages in the phone will be refreshed when the music can send in a message. Texting again immersed in music space for users to create conversations inspiration. Tango app can link with many phones as Smart Phone, Tablet with best quality over 3G, 4G, Wi-Fi.
TANGO FOR THE PC - SOFTWARE SOCIAL CONNECTIONS

Once installed Tango in the computer, it will automatically find friends also using Tango via phone number that you enter or email address. The number of links is not limited, allowing you to easily exchange information quickly in groups. Profile is updated at Tango: image representation, status, video, links, ... The difference of external Tango messaging, and voice calls between PC viedeo phone call, app also You can edit photos, add text to your photos before sharing them with friends.
GAME ENTERTAINMENT ON TANGO - MULTI-COLOR, MULTI-STYLE
In Tango with the different entertainment categories, rich, including news, music, sports, and games. Numerous game makes you fascinated, funding and challenge gamers and friends will have a free utility on Tango. While the game play the same position, you can send photos or make calls with friends.
The time now has versions for different software Tango: Tango for Android, iOS Tango, Tango and Tango Windowsphone for Mac for free with different features showed enormous strength of this app. Waiting any longer that you have downloaded Tango on the computer, gadget 6 in 1: messaging, voice calls, video calls, connect with friends, play games, share information, all in one app Tango.
Vietnamese version: Tải phần mềm Tango cho PC 1.6.14117 - Gọi điện, nhắn tin, video call miễn phí