SOUNDDOWNLOADER - SUPPORT FOR DOWNLOADING MUSIC FROM SOUNDCLOUD
SoundDownloader is a free music downloading, enables you to download music files, online audio (MP3, AAC) from soundcloud.com and Youtube into the PC.
It lets you download all the music and tracks from SoundCloud clip, even if they are only allowed to listen without permission download.
Guide to download and save SoundCloud mp3
1. Download and install SoundDownloader
2. Run the program after installation SoundDownloader.
3. Open site www.soundcloud.com , search and audio tracks that you want to download.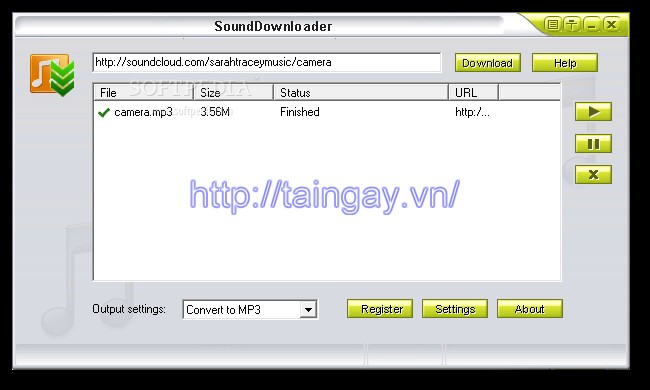 4. Copy and paste them into the track link of SoundDownloader EditBox.
5. Click on the " Download "button and SoundDownloader will begin downloading.
6. After completion of the loading process, SoundDownloader display a prompt window, you can select " Yes "to open the folder to save the downloaded file.
Request:
- 128MB of memory (256MB recommended)
- 512MB hard disk space or higher.
Vietnamese version: Download SoundDownloader - Hỗ trợ tải nhạc từ SoundCloud