TEAMVIEWER - CONTROL AND REMOTE DESKTOP CONNECTION
TeamViewer is a computer software remote control extremely convenient and quick, can connect to any computer or server on everywhere in seconds. Because of its convenience but TeamViewer has won the hearts of many users.
With many remote control functions entirely new, you can work easy, quick and intuitive. Expand your capabilities as well as the Team Viewer to start taking the latest online meeting today by downloading and install TeamViewer to connect to remote computers with ease.
NEW IN THE LATEST VERSION OF TEAMVIEWER
Error correction block users use modules after installation QuickSupport TeamViewer full version.
Optimize performance.
Supports optional feature automatically locks the computer.
Additional function buttons new updated version.
Enhance and fix some other minor bugs.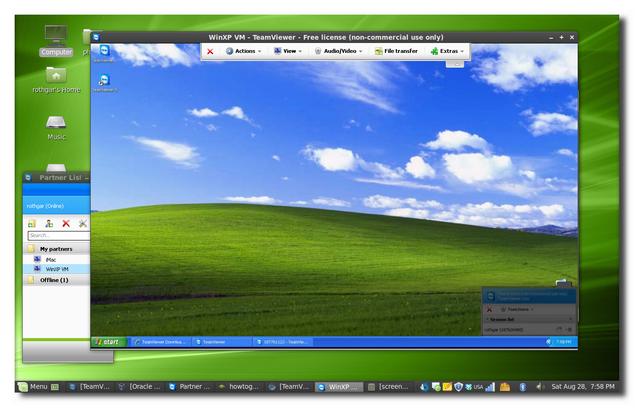 Team Viewer to access the computer remotely
SOME KEY FEATURES OF THE TEAM VIEWER
Can send files right in the chat window
When users read a message on a device, it will automatically be marked as read on all other devices
The minimum size of the chat window is minimized
Button QuickConnect only move the selected window
Improve system performance considerably.
Optimizing CPU utilization for multi-core processors.
Quality HD voice transmission.
Login loading time and faster for the Management Console.
Apply the policy set, distribute and enforce them if necessary via the Management Console.
Automatically applying any changes to the policy settings for all settings.
Allows access to all your device only using a whitelist.
No need to worry about granting access to users through a white list on each device.
Minimize some of the need for the administrator account by adding companies to the list of white instead of managing access rights for individual users.
See the previous discussion to seek information or help solve a problem.
Providing a complete chat history for all conversations.
The chat will be fully encrypted.
Create chat groups continuously for ongoing discussions.
Interact with your colleagues using video and VoIP with superior quality without the need to start a meeting.
Looking and talking to many people engaged simultaneously in a single call and share the screen at any time want.
Video calls will be securely encrypted to ensure privacy for the user.
Displaying pictures and your contact information in the Computers & Contact list, chat window, and the dialog box asking for a similar position - to help determine your identity.
Quickly find the right person or the equipment they use to share the screen or your files
Share files during the meeting or work session remotely using storage services such as Dropbox, Google Drive, Box OneDrive or built-in program.
File transfer in both directions.
Provides multiple high security standards, such as: Bit AES Session Encoding A256, 2048 Bit RSA Key Exchange.
Controlling the remote computer as if you were sitting right in front of the screen.
Available application to control remote TeamViewer for BlackBerry devices.
Currently available on the whiteboard during a remote control. Both sides can use a whiteboard to explain something at once.
To encourage the participants on time, the program lets you lock the meeting after the start. Do not worry, you'll see who's waiting outside and invite them to join if they wish.
Integrated computer and your contacts to any software by leveraging Computers & Contacts API. For example, see when their customers online and establish a connection with them from within the software. Synchronize information and easily access, manage, and edit computer and contacts.
Maintain a protocol during a remote control session or save something no waiting to appear in your mind. No need to wait until the end of the session to post a comment.
Widget VoIP and Phone Conference were combined to users easier choice.
Add the ability to operate on many different screens.
Supports the ability to create multiple connections in different tabs.
Supports Wake-on-LAN.
TeamViewer account is protected by 2-step closer authentication.
Copy and paste files, images and text via clipboard.
Data transfer is extremely simple.
Easy integration into the user's own application thanks to TeamViewer API.
Fixed several bugs of the old version.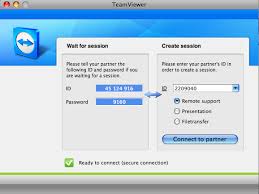 The simple interface easy to use Teamview
COMPUTER CONTROL VIA INTERNET
Drag & Drop Faster
With TeamViewer file transfer over, you can easily copy files or entire folders to and from remote computers. You can also use drag & drop feature for quick and more convenient.
Support Multiple window on the remote computer screen
You are the customer support personnel and customers need a solution quickly, not take long to go back? With TeamViewer, you can easily control the remote client computer is like sitting in front of their computer. With customer support module - TeamViewer QuickSupport - would be very easy for you to connect to a client at a glance without having to install any software.
24/7 remote access to the computer or server
TeamViewer help administrators computer or a remote server as if you were sitting at that computer. 24/7 access opportunities without the person on the other side. Save your most important contacts in the computer and your contacts to be able to connect at a glance.
All permanently installed machine ( TeamViewer hosts ) completely free for license owners.
Save Set for each computer connection
Save Now the individual connection settings for each computer in the computer & your contact list and save configuration time in the next connection.
Integration Functions Screenshots
Create a screenshot at any time during a remote control session. Therefore, remote screen snapshot can achieve extremely fast speeds.
AVI converter
Convert sessions are recorded in AVI format and then editing video as you want.
TeamViewer adjustable table
Set Table TeamViewer anywhere you want on the local computer screen so you can see important screen area at any time.
Improving Performance
Especially direct connections and file transfers become faster by optimizing data packets and setting screens.
TeamViewer connection even while on the road
You often go out but still need immediate support to customers, or to connect to your office computer and customer's servers?App TeamViewer for iPhone, iPad and Android helps you maneuver and flexible handle any situation.
Optimized performance with TeamViewer Manager
Speed ??up the pace, especially for volumes larger database. Due to the requirement to optimize the database, TeamViewer Manager now faster than 4x.
MEETINGS AND WORKSHOPS
Chaired the first meeting your online - easily and quickly.
The meeting quickly
Just with one click, you can start the meeting before attendees more - ideal for the preparation and examination. Quick invite colleagues, business partners or your customers.
Meetings scheduled
Scheduled meeting and invite directly from your email client. Using the new functionality "My meeting" TeamViewer account to maintain a comprehensive overview of all scheduled meetings were yours. Automatic transmission appointment in your Outlook calendar.
Up to 25 participants
Invite up to 25 people attended the meeting. Everything can be deployed, from marketing seminars for potential clients one on one to the major international meetings.
Attend meetings on the go mobile
With the new TeamViewer app for iPhone, iPad and Android, you can participate in the meeting at any time along the way. That way, you and coworkers will never miss important discussions.
Presenter - Organizer - Participant
Assign different access rights to the participants in the meeting. Named the participants was held. This person may be entitled to additional support in meeting you. Alternatively, you can assign roles to the participants present other people can share their screen.
Communication Tools
Now all participants can see and hear each other. During the meeting, they contact each other by talking over IP and Webcam.Additional tools, such as chat, whiteboard or telephone conferences, support the exchange of ideas through sound and image.Select the diverse communication tools to help meetings and workshops come alive.
Meetings File
Do you want to create a file available for download in meeting it? Just copy the documents you want to share the file box by Drag & Drop feature and you can swap them quickly and easily as you like.
Conference Record
Record screen video conferences and your transfer AVI format. By the way, can edit video on your own.
TeamViewer adjustable table
When presenting the entire screen, simply drag the TeamViewer panel to the desired position - for example, even for the second monitor, to have a comprehensive view of the important screen areas.
Vietnamese version: Tải phần mềm TeamViewer 10.0.43879 - Điều khiển và kết nối máy tính từ xa.