Typing Trainer is a typing training software for beginners typing or office workers but typing slow. In particular, these lessons are entertaining, relaxing to help students learn more interesting. Typing lessons will be streamlined from easy to hard, with detailed reports on learner progress.
Typing Trainer Free Download Online
Typing Trainer is a software that will provide you with a variety of typing exercises and detailed analysis of typographical errors that you encounter and suggest solutions that will help you improve every day. This is a 10-finger typing app, which helps you to practice typing more accurately, typing speed faster to better serve the job.
Typing Trainer is a typing training software for beginners typing
Typing Trainer features a ten finger typewriter user interface, computer typewriter, a variety of synthesizer programs that allow users to manipulate typing with ten fingers. . Special program also give advice, user instructions in the first lesson.
Typing Trainer Free Download provides two key features to help users learn how to type in 10 keyboards: Quick Typing Boost with the goal of reducing typing time with simple exercises and Typing Analyzer for tracking and storing. Your keystrokes, as well as your computer's keyboard skills, detect common mistakes and help you improve and modify them. All these exercises combine with high-level recreational games to help you relax.
For more information on how to use this software, check out our 10-finger Typing Trainer instructions with our practice tips.
The exercises are arranged in sections with increasing complexity. Quick training courses are also included to help users evaluate their abilities through each exercise. This application will provide a graphical representation of each participant's progress over time. In addition, fast typing techniques that maximize the maximum efficiency of 10 fingers will also be trained by this software.
For the typing training is no longer dry, you can combine Typing Trainer Free Download with games in the Mario app to increase the fun when you practice typing, in particular, Mario software is very suitable for The children of Mario have interesting games that make learning typing a pleasure every day.
Typing Trainer makes typing more enjoyable because you learn while playing and can improve your typing speed. After a period of practice, you will notice that the keystroke has become reflective without any obstacle.
If you want to find a simple 10-finger typing software for kids you can choose UltraKey with lots of fun games and exercises. In addition, UltraKey also supports tracking of typing speed and checks for errors occurring during typing.
Typing Trainer features:
Practice typing skills fast.
Detailed error analysis technique.
Detailed report of results.
Customizable screen typing.
Tip Typing Trainer 10 fingers
Step 1: Before typing you need to memorize the keys of each finger (position of the keys corresponding to each finger on the two hands)
In the Typing Trainer Free Download software, the number of keys that the fingers perform is relatively small and is only available for typing in English, without the numbers. However, they are case-sensitive.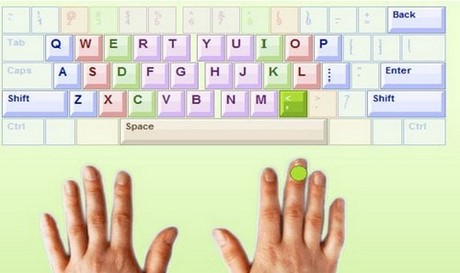 Typing Trainer features a ten finger typewriter user interface
Left hand:
Pointing finger: Always on the F key, in addition to the keys U, Y, H, N, M.
Middle: Always stay at the K key, and take charge of the I key and the "," sign.
Thumbnail: Set to L, add O
Thumbnail: Take charge of the A, Z, Q and Shift keys.
Thumb: Set to Space.
Right hand:
Pointers: Always set to J, in addition to the additional keys G, T, R, V, B.
Center toe: Set to D, move up to E and down C.
Thumbnail: Set to S, hold down the W and X keys.
Thumbnail: Take care of the P, "", Back, Enter and Shift keys.
Thumb: Set to Space.
Step 2: Practice easy to difficult. The software will consist of 2 Lessons, each with 6 Lessons for you to practice.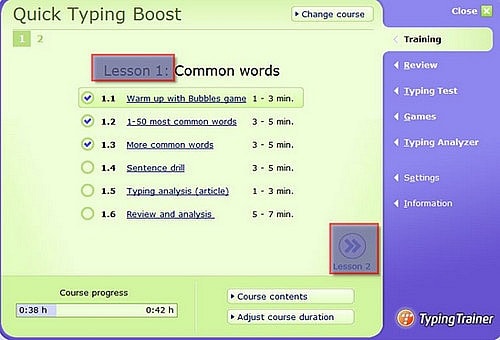 Corresponding to each post, there are three levels for you to practice typing: Easy, Intermediate and Advance.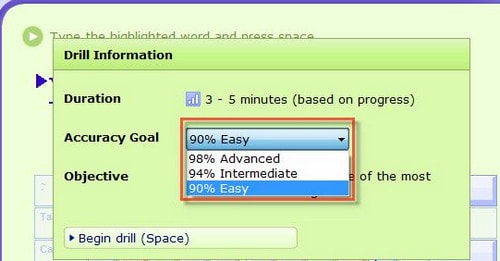 Step 3: After each exercise in Typing Trainer Download, the system automatically creates a new exercise with the keys you type is not standard. Therefore, keep practicing with such articles to improve your typing skills. At the end of each exercise, the assessment also includes the following: Precise typing, speed, rating, ... let you know.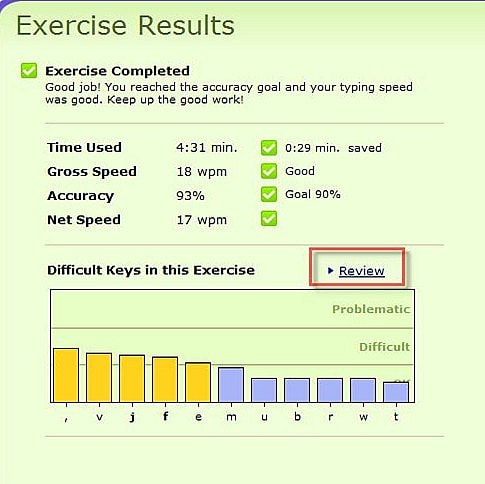 Typing Trainer with 10 fingers on the keyboard, you can train yourself and improve your typing skills through practice exercises, end each exercise, automatically save and compare results between typing.
See more: typing trainer online free, typing trainer download for windows 7, typing trainer software download
Vietnamese version: Download Typing Trainer Free Download Online - Phần mềm luyện đánh máy tính