VIRTUAL CLONEDRIVE - UTILITY CREATE VIRTUAL DRIVES FOR FREE
Virtual CloneDrive is a program that allows creating CD / DVD virtual drive works just like the conventional physics.
The disk image files generated with CloneDVD or CloneCD can be mounted onto a virtual drive from your hard drive or from a network drive and used just like a real disc in a CD / DVD so normal. Software is the best virtual drive, Virtual CloneDrive allows you to enjoy the freedom of a virtual drive and is completely free.
KEY FEATURES OF VIRTUAL CLONEDRIVE
Good support virtual disk file formats common as: ISO, BIN, CCD, IMG, UDF ...
Supports up to 8 virtual drives at one time.
Easy to use, simple interface, many features ...
Totally Free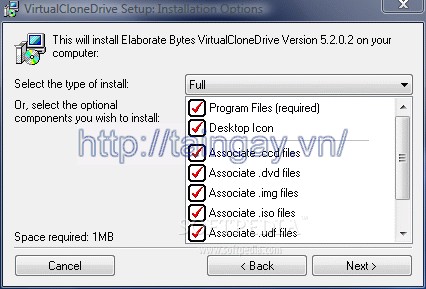 Vietnamese version: Download Virtual CloneDrive 5.4.8.0 - Tiện ích tạo ổ đĩa ảo miễn phí