VIRTUAL KEYBOARD - A VIRTUAL KEYBOARD MULTILINGUAL
You need to edit the different languages ??but not available on the computer keyboard supports Russian, German, French, Italian, western Spain, Portugal, Turkey, U Krai Na ... So right How now?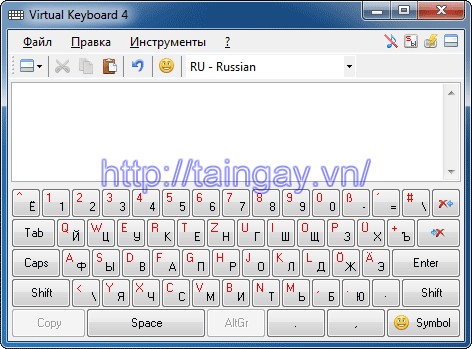 Virtual Keyboard assured capable text editor with multiple languages ??on your computer. Moreover, Virtual Keyboard also allows resizing, color interface easily with just a few mouse manipulation.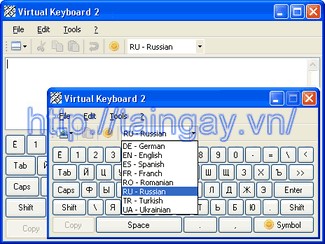 Selecting language keyboard
SOME KEY FEATURES OF VIRTUAL KEYBOARD:
Supporting text editor with many different languages ??such as Russian, German, France, Italy, Spain, Portugal, Turkey, U Krai Na ... You simply select the type of language manipulation Languages ??that I need and start drafting your job.
Support for disabled people enter data into the computer.
Custom size as well as color change interfaces.
Can be used in full-screen mode.
Allow users to install directly onto a USB to use anytime, anywhere.
With just a few simple steps users can set up and entered into the computer characters easily.
Vietnamese version: Down ứng dụng Virtual Keyboard 4.0.1 - Bàn phím ảo đa ngôn ngữ