VIRTUAL VILLAGERS: A NEW HOME - GAME BUILD EMPIRE
Virtual Villagers: A New Home is a time management game interesting plot possesses a charismatic and appealing. In this game, you will have the opportunity to help and care for village residents by teaching them the basic skills to survive.
After the occurrence of volcanic eruptions terrible, some people survived. However, they face many difficulties to rebuild life from scratch. Therefore, it is necessary to help you so that they can start their new life. People will learn how to pick fruit, build houses, carry out scientific research, parenting, solving the problems that arise in everyday life and find a new food source. Always monitor and care for their village never abandon because every effort they have spent will definitely be rewarded.
Your mission is to offer useful advice and more accountable to others. People will appreciate you. As time passed, the life of people on the island had become stable, fun and more comfortable. Villagers have learned a lot from you and with the experience they accumulated will certainly help them move forward.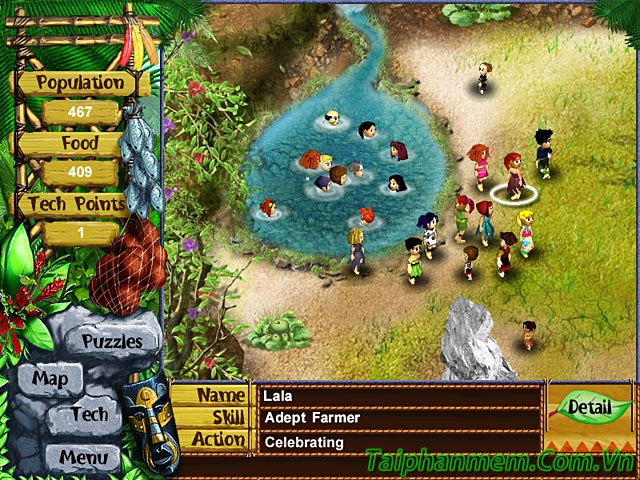 Puzzle 1
The people in your village will need food and drinking water. The only source of water supply wells are placed in the northeast part of the map. Unfortunately, it was blocked. Now you need a trained individual. He is a construction worker. Bring him down the well to unlock it immediately. This will help you solve the first puzzle.
Every time a new puzzle solutions, the villagers will celebrate and gathered in the village center. You can visit the "Puzzle" by pressing 'Puzzile' in the bottom left of the screen. A total of 16 puzzles. When you unlock the well they solved the first question in this number and a picture showing the victory will be displayed.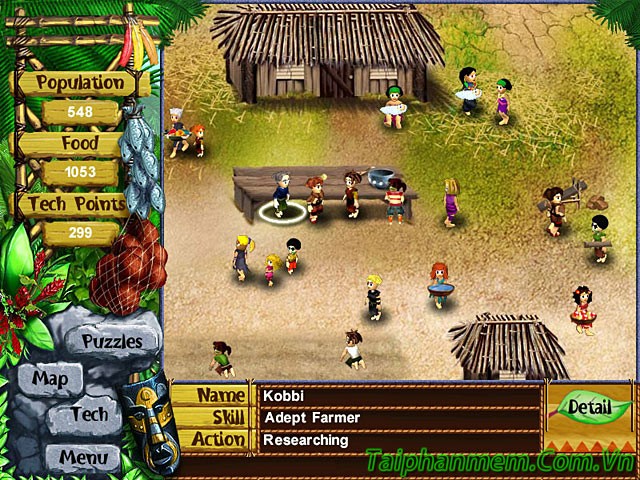 The original mission of the villagers
There are some tasks that the villagers have done at this stage, that is:
Search feeds:
Any citizen who can search coffee berries on the bushes. Quantity has about 1,300 fruit. You need to unlock the option Farming before food sources depleted.
Build:
You need to ask the villagers do one of two construction projects at this time. They could build a hut or remove debris from the beach. Complete tent will solve the riddle Monday. The cleanup of debris will solve puzzles Tuesday.
Research:
This is the most important task. You need to ask two villagers perform research tasks immediately to achieve "tech points" to be able to upgrade the skills necessary in all genres.
Cure:
You need to teach people how to treat a disease. Also need another doctor in case doctors are trained initially ill. Even, even a professional can not heal yourself in this game. The doctor Monday just a minimum amount of knowledge, so you can do this at the start of the game.
And also many other interesting things await players in front. So, download this exciting game on a Windows computer and yourself experience offline.
SYSTEM REQUIREMENTS:
CPU Speed: 600 MHz
RAM size: 128 MB
DirectX 6.0
Hard disk space: 23 MB
Internet Explorer 7 or older
Vietnamese version: Tải game Virtual Villagers: A New Home - Game xây dựng đế chế dành cho PC