WARFRAME - SHOOTING ACTION GAME FOR FREE
Warframe is online shooter 3rd point with a bold play action, be provided for free on Windows PC Digital Extremes developer.
Specifically, Warframe the shooter 3rd person perspective, is a mix of Asian styles Ninja, the guns of the West and the magic of Greek mythology. The game will support the play mode as co -op team match, PvE and PvP of course.
Step into open beta, Warframe also upgrade to version 7.0 with updated maps, new weapons and some improved features very attractive.
Players can easily register and then download the game from home Warframe to start conquering the virtual world of gaming with heated gunfights.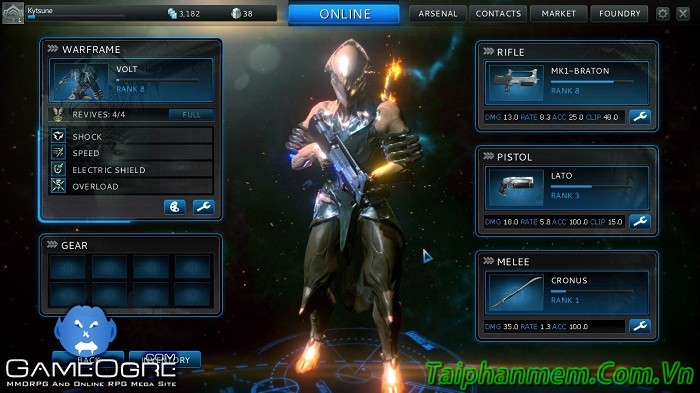 Warframe take context a fantasy world , where the battlefield of ancient warriors are summoned to fight the monstrous creatures are dark forces cloned.
Initially, players will have choices to choose 1 of 4 waframe available as Excalibur, Mag, Rhino, Loki. These wafarme is designed to undertake some specific roles such as fire increased, damage, spell ...
Warframe ownership rather special story with a compelling blend between modern technology with ancient values, when the Ninja is equipped with advanced weapons against enemies. Gamers will have the opportunity to establish teams of up to 4 numbers for the same person to complete the task, the weapons in the game can be upgraded, repaired. In addition, the system automatically builds screens also help the mission in Warframe become rich and not be repeated.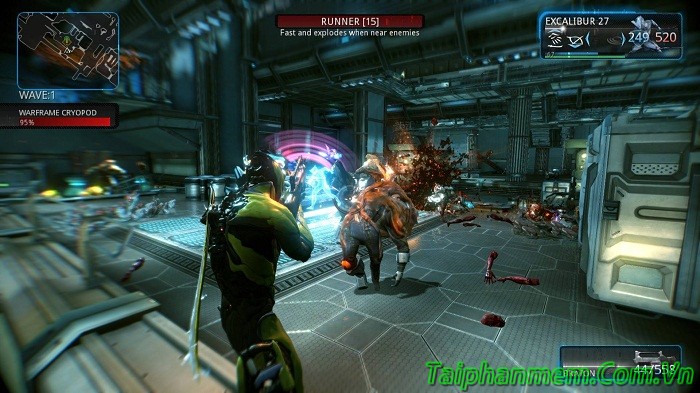 Also, in Warframe character can move, speed, launching a smokescreen to disappear like a real killer. The screen turns performing nature is also part of the gameplay of the game. In addition to using melee weapons skillfully, the "supernatural abilities" will support so many players at the same time having to face many enemies or trapped in situations devilish.
Specifically, the gameplay of Warframe be appreciated, in which players will have to skillfully combines long-range weapons, and melee skills to fight , and although the shooter but Waframe also incorporate weak RPG elements such as experience, skills increase, the index and is particularly important as blue-prints to collect weapons, overactive equipped ...
Weapons systems and skills will depend on the artifacts (artifact) found according to process tasks or extra copies. Each type of antiques will give players a new experience interesting about the power and mystical power.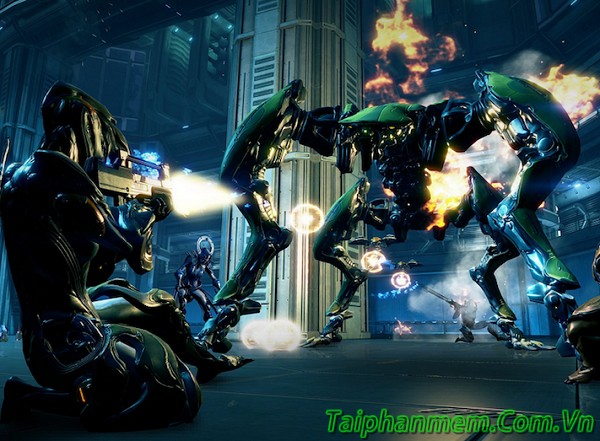 A general evaluation of players, Warframe is online shooting games 3rd point is eagerly anticipated at present. Game property impressive graphics, storyline and gameplay unique, gives players the completely new experience compared with the previous shooter.
Warframe designed with very sharp images, but not the building or Cry Engine 3 from Unreal Engine 3 that the Evolution Engine, gives gamers the dark frame of film. Picture of the game very well air express action in the narrow space, with design distant Dead Space. The spatial structure looks quite real, fire effects do well with the highlight image clarity.
Warframe is a game mixing action and strategy group. Chances are you will interested in the challenge has just discharged chase enemy bullets like crazy with his teammates.
Vietnamese version: Tải game Warframe 7.0 - Game hành động bắn súng miễn phí dành cho PC